SEE HOW EVERY HORSE SHOULD BE STARTED UNDER SADDLE
NO CHASING, NO BUCKING, NO FIGHTING
NEIL DAVIES SAYS: Every horse can learn to be relaxed and confident, just as every horse can learn to buck and fight.
THROW OUT YOUR OLD IDEAS
Some horses buck when they're first saddled. That's just the way it is, right?
Wrong
---
Just put the saddle on and he'll get used to it, right?
Wrong
HOW I KNOW WHAT I KNOW
I've started more than a thousand horses under saddle and each one taught me something. I've been bitten, kicked, knocked down and walked over by more horses than I care to remember.
No matter what happened, or how angry and frustrated I felt, I never ever blamed the horse.
After all, I'm the human and I'm supposed to have the brains. I'm supposed to be the teacher, right?
Right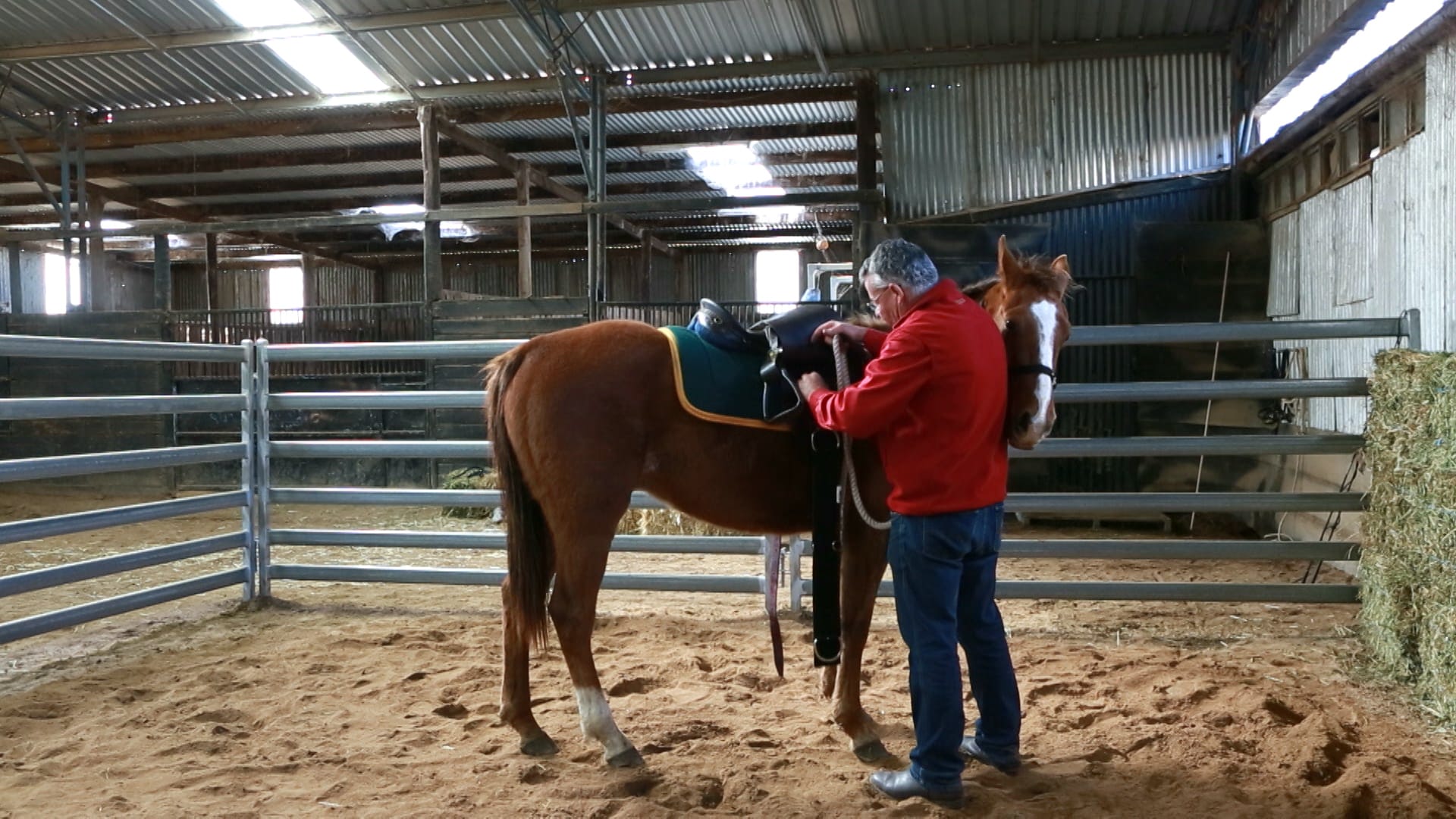 "Neil's approach is so simple it's hard to believe it works. But it's more powerful than anything I have seen."
Hoofprint Magazine, New Zealand
WATCH NEIL WORK IN REAL TIME
AND BENEFIT FROM HIS VAST EXPERIENCE
You'll feel like you're in the training yard with Neil, as he starts a frightened three-year-old station-bred gelding who hadn't had much prior handling.
Step-by-step, lesson by lesson, day by day, watch while Neil catches the gelding, teaches him to lead, handles his legs, and introduces the saddle, bridle and himself as rider.
Through each of the sixteen lessons, Neil explains every step in great detail and answers questions from onlookers.
WATCH NEIL'S SIMPLE AND LOGICAL APPROACH
Each lesson is less than 30 minutes, and neither horse nor human raise a sweat.
You'll see:
How to approach and catch a frightened young horse
How to teach him to follow – without chasing
How to handle his legs for the first time – no stress, no ropes, no flags, no restraints
How to teach him to stand, to move forward, and to lead alongside
How to sit on a horse's back for the first time – no bucking, no stress
How to teach him to walk a circle and to stand and relax with me on his back
How to introduce the saddle and girth – no bucking
How to teach a young horse to move forward in walk, trot and canter
How to move into larger arenas and into an open paddock
How to introduce the bridle and bit
How to catch this horse and every horse
How to trim a young horse's feet for the first time
How to introduce a stockwhip
How to hose a horse for the first time
And much, much more…
WHAT PEOPLE ARE SAYING:
Hi Neil
Thanks so much for sharing your knowledge. I have your book and both the Foal Handling and Starting Under Saddle videos which I followed as closely as I could. My little colt had attitude and was a biter and kicker right from his first week but we got through that. He's now 2 and this is where we are at. Still haven't ventured out of the arena but I am so happy to have been able to do this myself. Thank you so much!
– Sue Fyfe
The money I invested in the Starting a Horse Under Saddle Online Clinic is proving to be one of the best things I have ever done to help me become a better horseman. You may not realize that your quiet, calm, steady demeanor not only positively impacts the horse, but also the human who is just as worried. I thank you for your efforts and look forward to my future lessons.

– Vickie Griffis
I have found the Starting Under Saddle Online Clinic to be great. Neil is straight forward and easy to understand and it has provided great framework for my training. I'm being guided at my own pace and my horse is responding so positively. I have also needed to ask the odd question to clarify my understanding and Neil has always answered within a day. I have watched the videos over and over and learn something every time. I previously studied "natural horsemanship" methods for years and found some things just didn't work. I ended up feeling quite demoralised and with a very confused horse! Neil is good at debunking approaches that don't work and telling you WHY they don't. This has really helped my relationship with my horse immensely – it's clearer, more direct and more satisfying for both of us, under Neil's approach. I highly recommend his training courses.

– Estelle O'Brien
I enrolled in your Starting a Horse Under Saddle Online Clinic. For the last few weeks, I've used your approach to work with my Gypsy Vanner, Pistol, who is a 3 year old gelding. I'm so pleased with how fast he is learning and how I, now, recognize when he is "worried" versus when he doesn't "understand". For the most part, he's catching on and is compliant. I've signed up for 3 other training type video series in the last few years and YOURS is the only one I've stuck with. The others made no logical sense to me and were too showy. I'm so very happy that I stumbled upon your website via Facebook! You're the real deal, Mr Davies and I am very appreciative that I am finally getting an authentic clue.

– Robin Watson
Clear, concise and kind advice on having a cooperative relationship with horses, instead of brute force old time techniques.

Sonja Dake
Neil keeps it simple, very easy to learn.

– Lisa Laurin
I have just purchased the Starting a Horse Under Saddle Online Clinic and am only two videos in & loving what it is teaching me! I'm no professional … I have a horse that kicks and won't let me touch him past the neck … Already after two short 10min sessions following Neil's training I am touching him (while he patiently stands and waits for me to move away) on his neck, back, stomach and top of front legs … Incredible.

– Karen Zelinsky
I have always felt there was a better way for the horse to be educated, this is it. You have allowed me to grow into a better educator for my horses, thank you!

– Belinda Seiboth
Comprehensive, sensible and kind approach to horse education.

– Megan Minasi
Informative, makes sense, encouraging, logical.

– Leesa Hatten
Answered a lot of questions that I had about the so called natural horsemanship that is so prevalent in horse handling today that I was uncomfortable with, thank you.

– Shirley Douglas-Greig
It's a kind and sensible approach, very clearly articulated by Neil.

– Jackie Fry
I find the advice insightful and easy to understand. I always look forward to receiving the email posts to continue my understanding and develop my knowledge of horsemanship.

– Alison
Neils observations of horse's mindset is irrefutable. His training approach is simply correct and will achieve the best outcome for horse and rider.

– Jo Davidson
Because I believe Neil's training approach make sense for the horse in a calm manner which is light years ahead of chasing them – how can they understand what is expected of them when they're afraid?

– Ros Gladman
Brilliant advice, easy to follow and all commonsense with no BS.

– Sue Bell
It's logical and humane and it works.

– Maree Wyeth
WHAT'S NOT INCLUDED
IN THIS ONLINE CLINIC:
No kicking
No bucking
No confrontation
No chasing
Just an in-depth explanation of horse handling and horse psychology.
PURCHASE STREAMING ACCESS TO MORE THAN 7 HOURS OF VIDEO
FOR JUST AUD$299
YOU'LL BE ABLE TO STREAM AND WATCH ALL 16 LESSONS FROM ANY DEVICE: YOUR, COMPUTER, TABLET, SMART PHONE OR SMART TV.
You'll have unlimited ACCESS. You can go back, revisit, and access all the lessons as many times as you want.
Pay once and it's all yours.

My Starting a Horse Under Saddle Online Clinic is entirely digital. You access everything through the login area at this website.
PURCHASING IS SIMPLE
Just click on the button below and complete the checkout process.
When your transaction is complete, you'll receive an email with your username and password. Then login at this website.
If you have any questions email me at: neil@fearfreehorsetraining.com
All the best from Neil Davies
On behalf of horses everywhere.