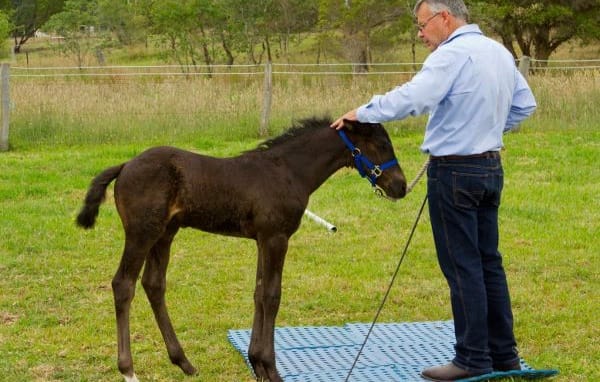 HOW FOALS ARE HANDLED IS OFTEN OVERLOOKED IN THE HORSE WORLD, BUT IT'S THE MOST IMPORTANT STEP IN EVERY HORSE'S EDUCATION
Correct handling as a foal gives every horse a head start in life. When your youngster is old enough to be ridden,
it will be no big deal.
IF EVERY FOAL WAS STARTED OFF CORRECTLY, THERE'D BE NO "PROBLEM" HORSES AND NO "REJECTS"
People often ask me to "retrain" their horses and make them confident and relaxed. They believe you can erase a horse's memory and start again.
That's impossible. No-one can erase any horse's memory. That's why it's so important to start every foal correctly in the first place.
IF YOU BREED A FOAL, IT'S YOUR RESPONSIBILITY TO TAKE CARE OF HIM FROM DAY ONE
Don't wait until your foal is six months old, don't even wait until he's two months old—start teaching your foal to be confident and relaxed from the very first week of his life.
Handling your foal is like painting on a blank canvas. What you paint is up to you—every foal can be taught to be confident and relaxed, just as every foal can be taught to resist and fight.
DON'T FALL FOR OLD WIVES TALES OR CRUELTY WHEN IT COMES TO HANDLING YOUR FOAL
"This foal is mad, his mother was mad, all this breed are mad." Right?
Wrong
"Just tie him up and let him pull. He'll soon learn he can't get away." Right?
Wrong
"Sack him out. Flap that flag all over him until he gets used to it." Right?
Wrong
Many long-held beliefs are wrong. They've always been wrong.
And it's always the horses who suffer.
I KNOW THERE'S A BETTER WAY. LET ME SHOW YOU THE BEST WAY TO HANDLE EVERY FOAL
Benefit from my years of experience. My six-hour Foal Handling Online Clinic has fourteen step-by-step lessons in real time, working with a previously unhandled foal.
Watch while I:
Approach and catch the foal for the first time without confrontation or stress
Introduce the halter and lead
Teach the foal to be confident and relaxed
Teach the foal to step forward to me, to walk a circle and to lead alongside
Handle the foal's legs for the first time, right through to trimming her feet
Teach the foal to lead and lunge and step over obstacles
Teach the foal to tie up without pulling and fighting
And much, much more
Every step in every lesson is explained in great detail. The footage includes questions from onlookers, interviews, and plenty of me talking to camera.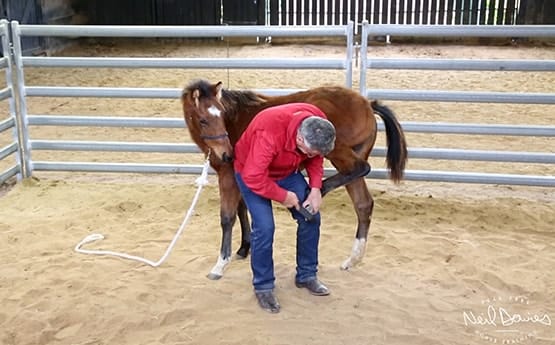 I EXPLAIN EVERYTHING I DO, AND YOU'LL FEEL LIKE YOU'RE IN THE TRAINING YARD WITH ME AS I WORK
HERE'S WHAT PEOPLE HAVE TO SAY
ABOUT MY APPROACH
Really informative and easy to understand videos using the training on all my young horses now.This guy is Neil Davies. He is a master horseman, very humble and a horse genius. Neil would be, without a doubt one of the world's leaders in horsemanship and horse education and he needs to be acknowledged for what he is, a horse genius. Horse people worldwide can learn much from this man, if they take the time to listen.Really informative and easy to understand videos using the training on all my young horses now.

– Rick Worthington
I train young thoroughbreds and have immediately put your approach to a real world test and have nothing but success.Are you planning to come to North America?The horse world desperately needs to hear your wisdom and doctrine of kindness towards these noble creatures.I want to thank you so much for seeking and then sharing your wisdom of a "better way" to train horses.Looking forward to the day we get to meet. Yours truly,

– Ralph Livingston
WHAT'S NOT INCLUDED
IN MY FOAL HANDLING
ONLINE CLINIC
No fighting or force
No pulling back
No flags or tarps
No restraints
Just an in-depth explanation of foal handling and horse psychology.
SIGN UP NOW FOR STREAMING ACCESS TO OVER 6 HOURS OF VIDEO FOOTAGE
You'll be able to stream and watch all 14 lessons from any device: your tablet, smart phone, smart TV, PC, etc.
You'll have unlimited ACCESS to the videos—you'll be able to go back, revisit, and access all the lessons as many times as you want.
You pay once and it's all yours.
My Foal Handling Online Clinic is entirely digital. You access everything through the login area at this website.
The price of streaming the complete Foal Handling Online Clinic is
ONLY
AUD$299
You'll have Unlimited Access
to over Six Hours of Video in Fourteen Lessons
GETTING STARTED IS SIMPLE
Just click on the button below. Follow along through the checkout process.
When your transaction is complete, you'll receive an email with your username and password. Then login at this website.

In a few minutes, you can watch the first video and give your foal
the best start in life.
If you have any questions please contact me.
All the best from Neil Davies
On behalf of horses everywhere.